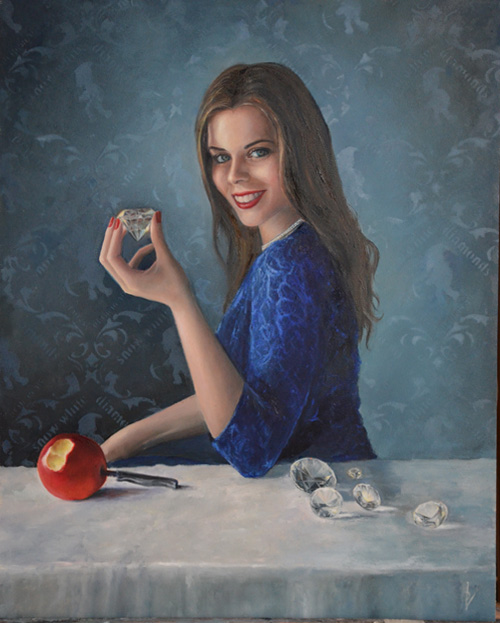 Snow White diamonds the fairest of them all
Posted on
December 1, 2014
Er was eens….
Sprookjes die ik als kind voorgelezen kreeg gingen eigenlijk altijd hetzelfde. Hulpeloze, maar lieve prinsessen worden gered door hun knappe prins. Maar wat als die prinses nu eens in deze tijd leefde? Zou zij die prins nu wel echt nodig hebben? Dit schilderij is een knipoog naar al die verhalen.
In plaats van het huis van de 7 dwergen schoon te maken, is Sneeuwwitje een diamanthandel begonnen van de diamanten van de dwergen.
Als je kijkt in het behang zie je haar logo (een dwerg die diamanten aan het hakken is) En de tekst: Snowwhite's diamonds the fairest of them all.
Of deze Sneeuwwitje haar prins ooit ontmoet heeft, laat ik in het midden. Ik kan alleen zeggen dat hij in dit sprookje wel van goeden huize moet komen. Want zeg nu zelf: De mooiste vrouw van het land met een goed stel hersens. Tja… daar moet je wat voor over hebben☺
P.s. de verf is nog nat. Dat zie je in de foto's.
Olieverf
40 bij 50 cm
1800 euro